How fast is your YouTube speed?
How fast is your specific YouTube browsing speed?
This is an important question for each Internet viewer because the speed that YouTube sends your computer the data is faster than the speed your computer can receive the data.
So visit http://www.youtube.com/my_speed and check out your YouTube speed!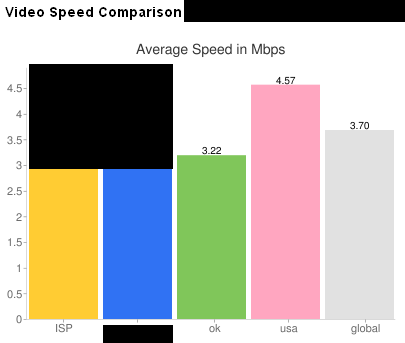 You'll see the a bar chart of the average speed in Mbps (megabits per second) at the current time and over your near-term history. I blacked out my date range at the top, my ISP and city average speeds, and the name of my city.  If there are other ISPs near you, you'll see those average speeds too, even though you're not using that connection.
State, USA, Global Average Speeds
We can see from the screen shot above that Oklahoma's average YouTube speed is 3.22 megabits per second. USA's is 4.57 Mbps, and the global average speed is 3.70 Mbps.
Oklahoma's average is 70.5% as fast as the USA average and 87.0% as fast as the Global average. My specific connection is more than the average Oklahoman's, which helps with uploading and downloading HD video files. :)
More Info
For an advanced FAQ (Frequently Asked Questions), visit YouTube's "Advanced: Video Speed" help page. Here are some excerpts:
Why is YouTube doing this?

Video speed is an important part of your viewing experience since it determines the amount of time you need to wait before you can start watching a video. It is also an important factor in determining the quality of the video you can watch. By making the video speed history data available, we hope to better inform you of speed issues as they relate to your viewing experience, and give you the ability to compare your speed numbers with other users in your region.
Why are there weekend drops in the "Speed Comparison over Time" graph?

On weekends, more users watch online videos from home which typically have slower connection speeds than at work. This is one reason for the drop in video speed during the weekends.
Average Video Speed

We only show you the daily average video speed your browser has had when connecting from the same IP address in the past, provided that you've watched videos on YouTube in the past 30 days from the same browser (see "You" in the bar graph).
Average Video Speed History

We show you the daily average video speed history over the past month, if you've had at least 4 days of viewing history in the past 30 days (see "Your Current Location" in the line graph).