Your "real" organic Google Rankings
Have you ever seen someone tout their own website as "#1 on Google"? If you pay attention, the screenshot will typically show enough of the screen for you to realize they're logged into their own Google account.
Here are a few tips for avoiding this gaff when checking your own ranking…
Log out of your Google account.

Google keeps track of what you've clicked on or shared in the past.

Clear all browser, flash, and Google Toolbar cookies and history.

Google sometimes has access to your browsing history, with the intent to deliver more relevant search results.

Don't go to any other pages. Go straight to Google; do not pass Go. Type in your search term.

See what results pop up…
Bonus: An alternative to all this…
Google Verbatim won't personalize your results, correct spelling mistakes, or include related search keywords. So all that "personalization" of search results will be nullified.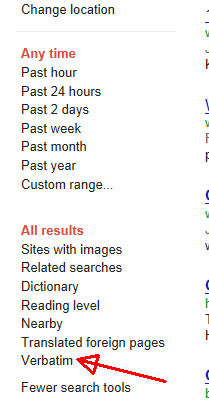 So, from now on, discount all other screencasts, screenshots, and videos of showing off "I'm number 1 in Google" — because you know better. And understand that he may be #1 today, but he may not be tomorrow. For more information about Google Verbatim, visit http://googlesystem.blogspot.com/2011/11/google-verbatim.html
Looking for SEO (Search Engine Optimization) or SEM (Search Engine Marketing) services? We invite you to contact us.