WordPress Survey 2012 – Help Shape WordPress
It's that time of year again. If you use or develop for WordPress.org, you should take the survey that came out on July 12, 2012.
Matt's collecting information to make WordPress better and get a lay of the WordPress land. It's called the annual survey, and it's really quick and easy. Plus, you can enter your email at the end to be notified of the results.
As Matt put it in his email announcement:
We're doing our annual survey of WordPress users, developers, and businesses, and just like last year will share the data at WordCamp San Francisco.

If you have 5 minutes and want to help out WordPress, take this survey:

http://wpsurvey.polldaddy.com/s/wp-2012

Merci beaucoup, from Montreal,
Matt  Mullenweg
http://ma.tt  |  http://wordpress.org  |  http://automattic.com
I hope you participate and share your ideas. It's the perfect place to give some high-level, lofty, pie-in-the-sky ideas you've had for WordPress, especially if you aren't participating in trac. If you need some ideas on what improvements to suggest, check out Tom Ewer's 5 Things WordPress Doesn't Get Right.
Watch the 2011 Annual WordPress Survey video  on Matt's website, where you can also get the bullet points and download the slides. There were 18,000 survey respondents last year. Do your part to make that number even higher this year – take the 5 minute survey for 2012.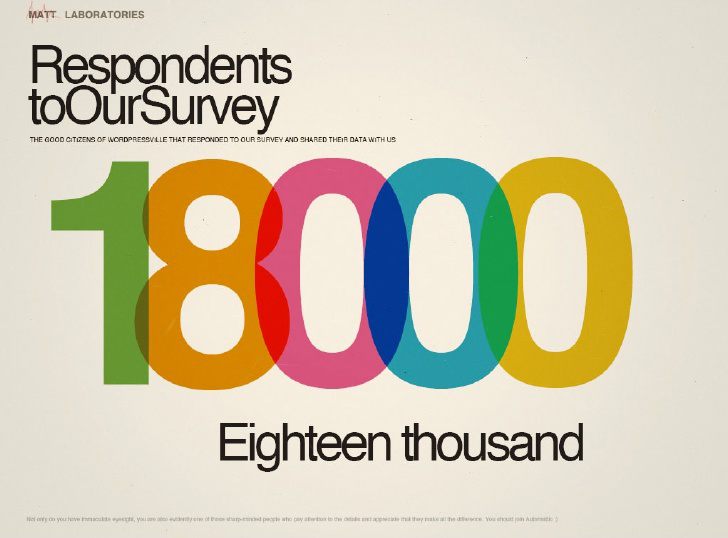 WordCamp San Francisco is dubbed "The Official Annual WordPress Conference". If you want to learn more about the 2012 conference, visit  http://2012.sf.wordcamp.org/.