REALTORS: Video marketing facts you need to know!
Facebook dominates video sharing!
Videos posted on Facebook are shared 218% more than Twitter and Email combined. Don't just upload the video to YouTube share it to your social networks.
People with money watch videos
Pew Internet & American Life Project reported that 78% of respondents with an annual income of $75,000+, consumed videos online. The study concluded, the more affluent and more educated have higher rates of viewership.
Translation: The people who can afford to buy a house are watching videos…are they watching yours?
Want to end up on Page 1 of Google? Create a video!
Any given video in the index stands about a 50 times better chance of appearing on the first page of results than any given text page in the index. (http://blogs.forrester.com/interactive_marketing/2009/01/the-easiest-way.html)
Here are a few tips Forrester Research offers to optimize your videos:
Always write descriptive titles and take the time to tag the video
Create a hybrid post Video + Text
Create a video sitemap
Note the increase in video viewers in the 45+ demographic: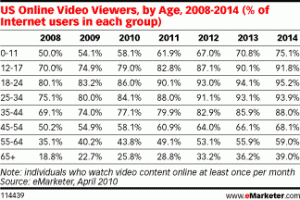 Are you currently using video to market your Real Estate business? If so, please share with us below
Source: Above content reposted with permission from The MLS App Facebook Training, edited for grammar and readability.
---
Real estate video made easy
Thank you for the great post, above. The content wasn't edited much because it made such great points:
Online video provides search engine (SEO) benefits
Online video should be posted to Facebook and other places where it's easy to view and easy to share
Online video is regularly watched by America's financially-fit Internet users (i.e. your desired buyers)
If you're not marketing your listing with online video, your non-existent video won't be watched or  shared
Conclusions:
If you have a quality video, each view of your online video will promote you and your brand  – not to mention your listings.
If you DON'T have quality video, each view of your online video could detract from your reputation – and won't show off your listing in the most exciting way.
Why spend the time and effort to make a sub-par video? What does that say about your marketing decisions?
TourKick produces quality videos (i.e. property commercials) Â highlighting you and your listings at affordable prices.
TourKick – Â videos worth sharing