Zoho, the Operating System for Business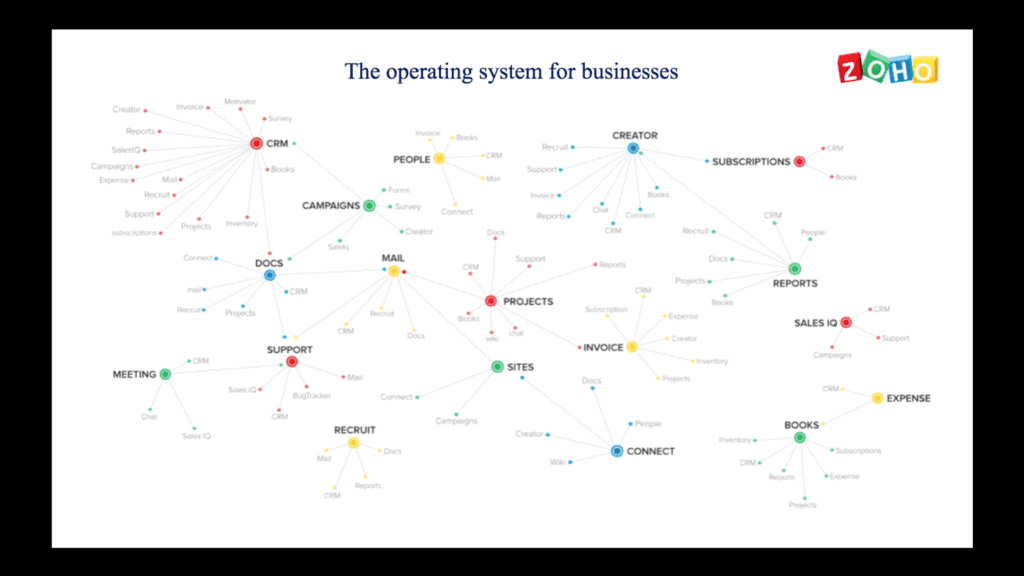 Run your entire business with 40+ integrated applications. With Zoho One, you can manage, connect, and automate business processes across your organization.
There's nothing as broad, integrated, and trusted as the Zoho One Suite.
Here's the link to Zoho One direct signup through me.
(Or just contact me and I'll do all the sign-up for you.)
Or you can sign up for one/several (instead of Zoho One) via this link.
Signing up through my link will give me permission with Zoho to consult regarding your account (setup and ongoing), plus then they share a small bit of commission with me each month.
Signing up provides you a 30-day free trial that is about 95% access to all possible settings.
Here are some helpful FYI links:
Here are some highlights of a few of the business-critical features Zoho One provides to you:
Imagine having all this and more available to you to run your business.
It's only $45/user/month (or $37/user/month if paid annually).
Example: Thinking about trying email marketing? Just select all from your CRM database, build a pretty email with pre-built templates and drag-and-drop, and click Send. Then do it again every couple weeks or months… then you'll know if you want to continue… but there wasn't any other service to sign up for, to pay for, or to try to keep in sync with your database.
Don't get overwhelmed
You can buy each individual app from Zoho if you don't want many of them. The price per month is in favor of Zoho One if you want CRM at all, or if you want 3-5 or more apps. If you know you only want to start with a branded email address, for example, then you could just pay for that and then upgrade later, either adding other apps one-at-a-time or eventually moving to Zoho One where everything's included for a single price.
As of August 2020, Zoho had over 50 million users and 9,000 staff. Contact me if you have any questions about Zoho One or want my sign-up link for only one the Zoho apps, like Mail!