Microsoft Office 365 vs Google Apps Email Migration
http://www.techrepublic.com/blog/google-in-the-enterprise/one-companys-google-apps-email-migration-part-1/1175  offers a thorough write-up of a specific company's email migration from on-premise email to in-the-cloud email. The author details many of the steps along the way to migration and does a great job comparing the Google Apps for Business and Microsoft Office 365 offerings. The comparison chart below is from the article, not created by me.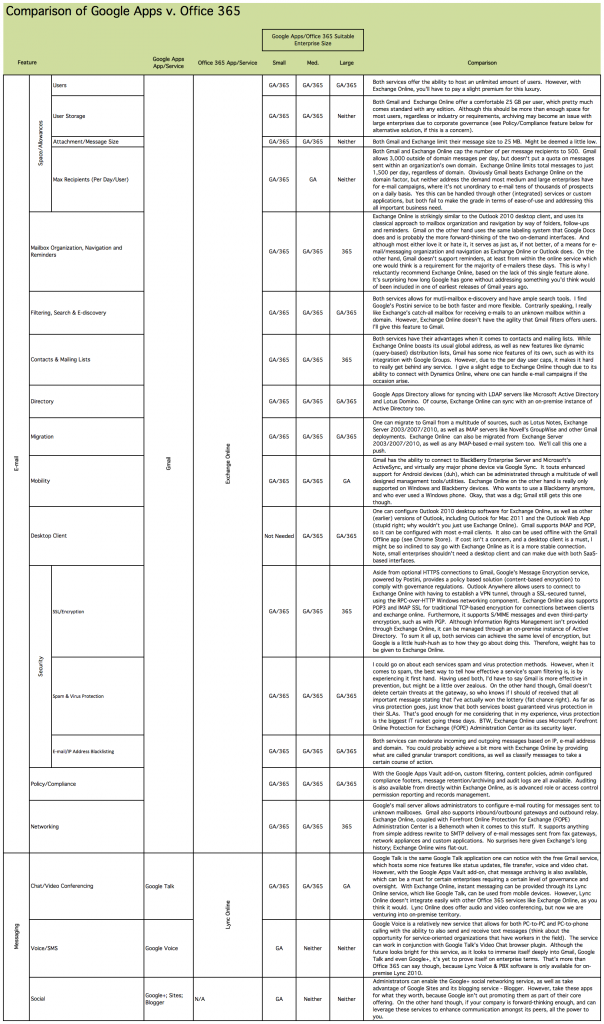 As a Microsoft Partner in the Cloud Essentials program, and having setup Google Apps for a variety of individuals and organizations, I am able to offer consultation, service, and training. Hands down, I'd recommend Office 365 (a.k.a. O365) for individuals or offices that live and breath Outlook for email and calendaring. Microsoft Exchange Online is an excellent offering for a very compelling price. On the other hand, Google Apps is a great choice for other reasons and even offers a free version.
O365 also offers Office Professional Plus 2010 suite, PBX telephone voice mail to inbox feature, Sharepoint Online, and other benefits. Google Apps has many third-party integrations for web-based email users.
If you're looking to get a reliable @my-domain.com sort of email address (and you really  should), I'd be happy to discuss these 2 options in greater detail with you. Please contact us with your request, and we'll be in touch shortly.