TourKick is a REALTOR.com Authorized Partner Featured Tour Provider!
TourKick has become a REALTOR.com PicturePath Authorized Partner for providing REALTOR.com Featured Tours! We're so excited that we're providing this service (posting the link to the video tour) FREE OF CHARGE to REALTORS with Showcase/Enhanced Listings! For agents without Showcase/Enhanced listings, there is a charge.
How does TourKick leverage Showcase Listings?
http://marketing.realtor.com/showcaselistings/ and http://solutioncenter.realtor.com/findvtprovider.aspx detail some benefits of Showcase Listings (a.k.a. Enhanced Listings), and TourKick empowers you to deliver Total Knock Out (TKO) real estate marketing media:
Post up to 25 jumbo size photos – grab the attention of buyers

Homes with the most photos rise above all other listings when consumers search for homes by the number of photos
Impress home seller clients when you showcase your photo marketing system

Full Motion Listing Videos – get more sellers to sign on the dotted line

73% of [sellers] say that they would be more willing to list with an agent who offered to shoot a video
100 million Americans watch over a billion online videos every month, make sure they are watching yours
Demonstrate to your farm area that you are on the cutting edge of real estate marketing
Eighty one percent of home buyers say photos and detailed property descriptions are the most important features when searching online for homes – followed closely by Featured tours (1).
Home buyers clearly recognize the value of Featured tours, with the "Featured Tours First" display option clicked on more than 120,000 times each day on REALTOR.com (2).
Differentiate how you market homes
Reach Internet consumers with Featured tours on the #1 real estate site (3), REALTOR.com
REALTOR.com is used by over 5.7 million prospective home buyers and sellers a month (4)

(1) 2006 National Association of REALTORS Profile of Home Buyers and Sellers
(2) Homestore, Inc. June 2006 internal analysis of total unique searches vs. searches with Featured tour sort
(3) Media Metrix Number of unique users on REALTORS each month of 2007
(4) Media Metrix Based on average of unique users each month from February 2004 to January 2005
Emphasis added.
To accompany our announcement, we're providing a walk-through of the differences between Virtual Tour Links and Video Uploads at REALTOR.com both of which you can do if you use TourKick and have REALTOR.com Showcase/Enhanced Listings:
Link to a Video Tour (only Tour Providers)
Only authorized Tour Providers (like TourKick.com) can insert a link to a tour, whether a true video (like TourKick's) or a slide show.
On Zillow and Trulia, for example, the agent can edit their listing to copy/paste the link themselves (which we provide to our customers). However, on REALTOR.com, only the Tour Provider can insert the tour link to the listing.
Upload a Video Tour (only Agents with Showcase/Enhanced Listings)
We deliver a download link to our customers that contains the branded video file, the unbranded video file, and all the photos. As a customer, once you download the .zip media file, "unzip" the .zip media file, and login to REALTOR.com, you can upload a video file.
Only agents with Showcase/Enhanced Listings can upload a video, and Tour Providers cannot upload a video for the agent.
What do these look like?
Here is an example listing with both a Featured Tour and a Video:
On REALTOR.com, we did a search for listings in zip code 74132 in the price range $120,000-$130,000 with 3+ beds and 2+ baths. There were 5 results. We sorted from lowest price to highest–the first 3 displayed below. We can see that #1 is listed with an agent with Showcase/Enhanced Listings because:
It is colored/highlighted.
It has a drop shadow.
It has a subtitle/headline.
There are more than 4 photos.
The "Save Listing" button is closer to the left.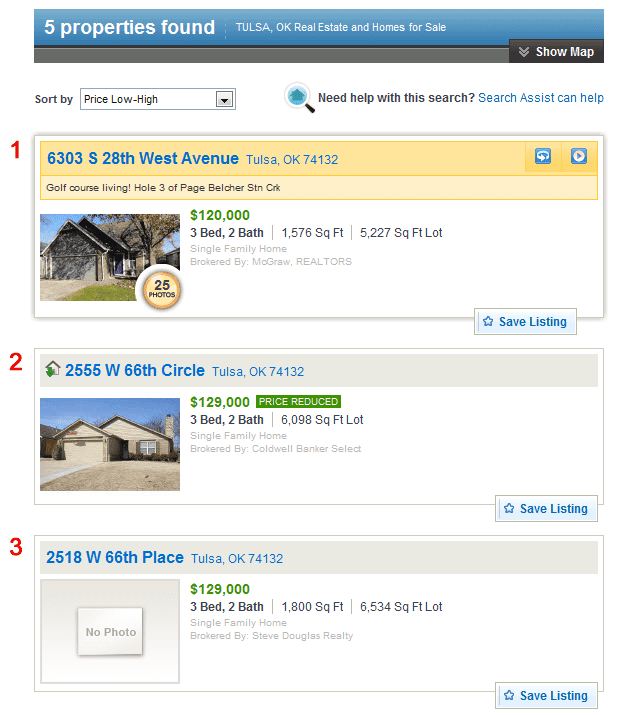 Focusing only on the first result:
The 2 icons indicate there is both a linked virtual/video tour (only Tour Providers can do this), and there is an uploaded video (only agents can do this).
The icons are "smart." In other words, if you have Showcase/Enhanced Listings but don't have a tour link or video, neither icon will display. And if you only have a link, that icon will display but the video icon will not; and vice-versa. 

   
Once we click through from the search results page to the individual listing (by clicking the address text, the main photo, or one of the tour icons), we can see the tour link and video buttons displayed below the photos and above the property's detailed information. Â  Â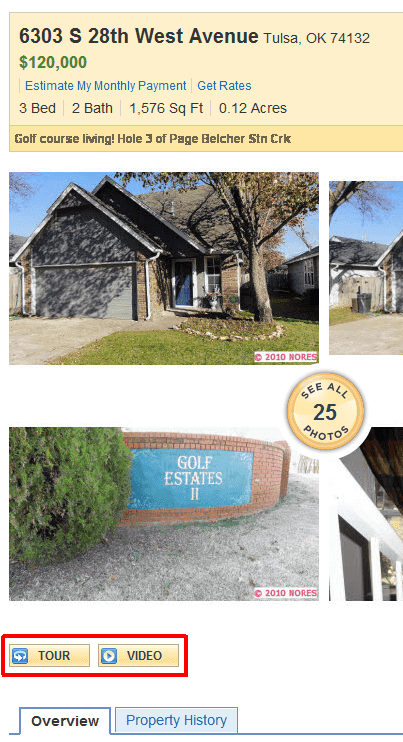 If you click the "Tour" button, you'll be taken to the TourKick.com webpage. The link opens a new browser window. Â  Â 
If you click the "Video" button, a video player will pop-up, as shown below. Â  Â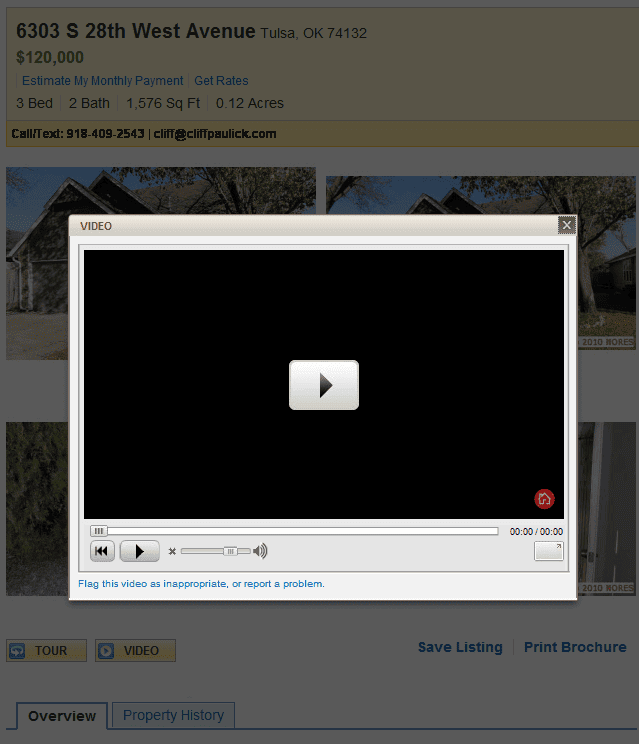 Should  I  Link or Upload?
Reasons  Tour  is good:
TourKick can do it for you and save you time.
If you have Showcase/Enhanced Listings, there's no additional  cost to you.
If you don't have Showcase/Enhanced Listings, only a REALTOR.com ®  Authorized Partner like TourKick can insert a Tour link for you. There's a cost, but it may still be worth it to you because there is no way for you to pay REALTOR.com ® for the singular ability to upload a video–you either have Showcase/Enhanced Listings or you don't.
At the time of this writing, REALTOR.com's ® video player quality is quite poor (to say it nicely). The Tour link  will provide  much better viewing quality, including HD and full-screen.
Reasons Video is good:
Buyers might recognize that "Tour" could mean a slide show (boring) or full-motion video (pleasing).
Uploaded videos have additional statistics. You can see when and how many times the video was played and from which states.
How about Both?
If the Tour is the exact same content as the Video would be, buyers may get confused if they watch both.
If you have both a Tour and a Video, some buyers may click the Tour but not the Video, which would make your Video statistics less accruate/reliable.
If you want the button to say "Video," you're going to have to do it yourself (or have your assistant do it).
To avoid confusion and save you time, just indicate on your TourKick Order Form that you have Showcase/Enhanced Listings (or that you don't but you'll pay for posting the link) and that you want us to post it for you, and

we'll post a link to the Branded version as your Featured Tour!